A Trusted Partner for Can-Seamer Efficiency
If you use can seamers, you need RSS MACLIN.
Your partner for can-seamer expertise.
Contact RSS MACLIN to find out how we can support your productivity.
Who is RSS MACLIN?
RSS MACLIN works with any industry that uses can-seamer equipment. We're the one team you need for line maintenance, machine audits, overhauls, and comprehensive can-seam and can-seamer training. Need a partner? We've got decades of experience, and our goal is to help you become an expert too.
After years of watching companies fail to prioritize seaming process efficiency, we started RSS MACLIN to fill this need. Our team offers all the services and products you need to improve your operations, maintain can seamers, ensure quality control, and troubleshoot effectively. But most importantly, we believe training is the foundation for maximizing throughput, reducing hold product and downtime.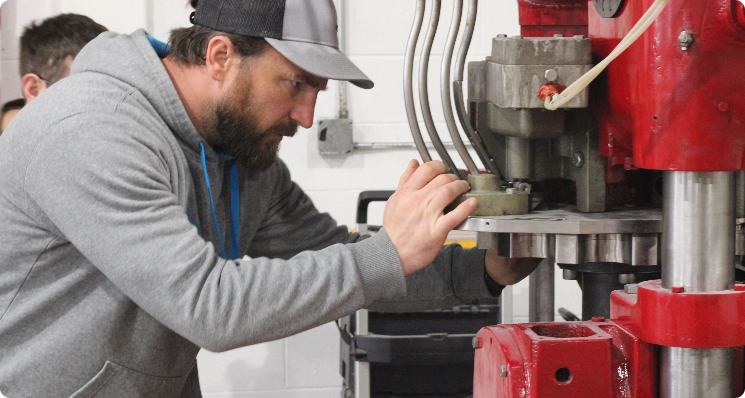 All things can-seaming. All in one place.
Products
We're proud to offer specialty tools to keep your line running and avoid downtime. Whether you're looking for a Master Kit that covers common areas of concern, a Timing Plug Kit for ultimate efficiency, or the Spring Pressure Gauge Kit for precision readings, you can find it all at RSS MACLIN.
Training
We share our expertise with you. Collectively, our instructors have more than 75 years of experience in packaging and can-seaming technology. We offer in-house training options at our facility on Angelus can-seamer equipment. We also offer on-site training at your facility for can seamers from Angelus, Ferrum, CFT, KHS, and Continental.
Service
When you choose RSS MACLIN, you choose a true partner. We're always here for you and are ready to help- whether it was scheduled or not.
Scheduled and emergency service
Get a quick response when you need it most. We'll be there to keep your line running. With expert knowledge about parts, we're your source for can-seamer and filler equipment repair and service. Our team goes the extra mile to help optimize other machines on your packaging line.
Line maintenance and support
RSS MACLIN offers total line support, including preventative maintenance checks, seam checks, and line support. Our line maintenance and support are custom to your needs. We'll help you reach peak performance through scheduled preventative maintenance checks, scheduled seam checks, tooling changes, inventory review and more.
Audits and overhauls
If you want to stay ahead of maintenance issues on your can-seaming equipment, annual or semi-annual RSS MACLIN audits and overhauls can help. You choose the schedule that works for you, and we provide a thorough assessment and adjustment to all areas of your can-seamer machinery.